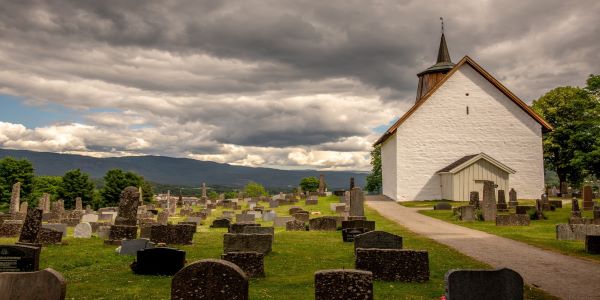 What are the Different Types of Funeral Options?
The definition of a funeral has evolved over the years due to changing traditions and social norms. There is now a wider variety and freedom over funeral services, from traditional burials and cremation to natural burials or humanist services. The important thing is that a funeral is a personal reflection celebrating your loved one. It is best to choose an option you feel would convey the wishes of the deceased and their loved ones. Here we have outlined the main types of funeral services that are available so you can make an informed decision.
What is a Traditional Burial Service?
If your loved one was a spiritual or traditional person, then a traditional burial service would be the best option. A burial service involves a viewing, a funeral service, and burial at the gravesite. The viewing is where mourners can view the body and pay their respects. The funeral service follows and is held at a funeral home, church, or event space. Traditional services may include prayers, eulogies, readings, and music. After the funeral service, the body is transported by a procession to the burial location and interred in the grave. There may also be a funeral reception for family and friends of the deceased to come together after the burial.
Find out more about burial services here.
What is a Direct Burial?
A direct burial occurs when the deceased is buried shortly after death without any formal funeral service. The funeral home makes all the necessary arrangements. Direct burial tends to be an affordable funeral option as expensive coffins aren't necessary and the lack of a service also reduces costs. However, the cost of the cemetery plot should be taken into account.
What is a Graveside Service?
A graveside or committal service occurs when the funeral service takes place purely at the burial site. Funeral attendees gather at the gravesite for a ceremony led by a chosen officiant and as with traditional funeral services, there may be eulogy readings, prayers, and music. However, a graveside service tends to be a shorter, simpler affair.
What is a Cremation Service?
A cremation is when the deceased is cremated to ashes rather than buried. A full service cremation usually includes a viewing or visitation, a funeral service and basic cremation services. The cremated ashes are placed in an urn that can be buried below or above ground, scattered, or kept by the family. Taking place at a crematorium, there is normally a chapel for an accompanying funeral service. There is also the option to hold the service somewhere else, like a church, and then have a shorter, committal service at the crematorium afterwards.
Find out more about cremation here.
What is a Direct Cremation?
A direct cremation is when the deceased is cremated shortly after death without any formal funeral service. However, a memorial service may be held at a later date. A cardboard container can be used for the cremation process so this becomes an affordable funeral option which can be arranged with minimum fuss.
Find out more about direct cremation here.
What is a Memorial Service?
A memorial service is essentially a funeral service without the body being present. However, if cremation was the method of disposition, the urn containing the cremated ashes can be present during the memorial. It is usually held after the funeral itself as a celebration of life events where mourners can gather in remembrance, share memories, and support each other in grief. The memorial service venue will often influence or be influenced by the type of service you have, the desired atmosphere and the number of mourners.
Find out about planning a celebration of life here.
What is a Natural Funeral?
A natural or green funeral service is perfect for nature lovers, as an eco-friendly option that allows the deceased to become one with nature. There has been a steady increase in natural burial sites such as woodland or meadows. The prospect of laying loved ones to rest surrounded by trees and flowers is making green funerals an increasingly attractive option. Most woodland burial sites offer either a burial plot or burial or scattering of ashes.
Find out more about natural funerals here.
What is a Humanist or Civic Funeral?
These non-religious services offer a dignified farewell to your loved one as well as a celebration of life. They tend to focus on celebrating a loved one's life, personality, and achievements as an alternative way to say goodbye. They don't follow a particular order of service or rites. Instead, a civil or humanist funeral service can be an occasion for mourning and sadness, a celebration of life or both. Led by a non-religious funeral celebrant, the family can play a big role in how the person is remembered and decide on the music, readings and symbolic gestures that are most meaningful to them. A non-religious funeral ceremony can take place at a crematorium or cemetery chapel, a natural burial site or in a non-religious venue such as a parish hall or hotel.
Whatever type of funeral you choose, you can set up a memorial page for your loved one here.