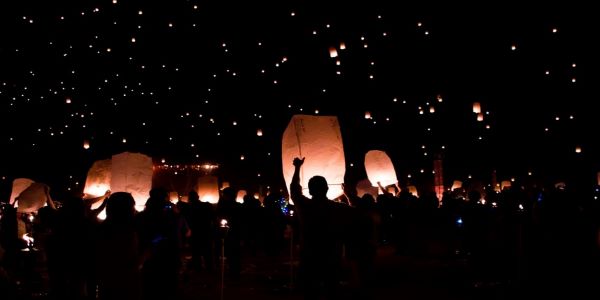 How to Plan a Celebration of Life
When a loved one dies, we want the chance to say goodbye and honour their memory. Holding a ceremony holds an important place in the grieving process. Recently, more and more people are breaking from tradition and opting for a colourful, personal celebration of life service. A celebration of life tends to focus on the life that someone lived, their legacy and happy memories, whilst mourning their loss. Here we have a guide on what a celebration of life is and how to go about planning one.
What is a Celebration of Life?
A celebration of life is a service that can be held alongside a traditional funeral or as a stand-alone event instead. A celebration of life can be part of a non-religious funeral, which includes a service and a committal all in one day. On the other hand, it can be a special memorial you plan in the days and weeks after a lower-key funeral. This gives many more people the opportunity to remember the life of the person who has died.
The decision whether to have a celebration of life is often based on the personality and requests of the deceased. For example, some want their loved ones to turn their passing into a party. However, it could simply be a way for everyone to get together after time has passed to celebrate the deceased person's life.
As the name suggests, a celebration of life should be celebratory and joyful. Family and friends are able to honor their loved one in a more personal and non-traditional approach. Instead of mourning the individual's death, guests celebrate the joy they brought into their lives.
How do you Plan a Celebration of Life?
Planning a celebration of life is like planning any other life event. You'll need to decide on the specifics, how you will get the word out and what elements you would like to incorporate. If you think this may be overwhelming, you can use a celebrant. These professionals work with families to design a service that is highly personalised.
However you go about it, a celebration of life should be as unique as the person you are honouring. It is entirely up to you to decide what is right for your ceremony. So, whatever components that your loved one would approve of or that you and your family are comfortable with. Below we take you through planning a celebration of life, step by step.
What type of service?
Firstly, you need to decide what kind of celebration of life you wish to have. Will this be a funeral or a memorial service? Will it be stand-alone or part of a more traditional funeral? What would you like the tone to be?
What is your budget?
Once you have decided on your type of service, set a budget. While worrying about the cost may seem inappropriate, it is important that you know how much you can reasonably afford. This can help you narrow down your choices for the details of the celebration such as the type of food and the venue.
How many people are attending?
A celebration of life is either intimate with close family and friends or larger, including business colleagues and extended family members. The size depends on the budget, as well as the personality and lifestyle of the deceased. It may be difficult to determine an exact headcount, but an estimated number is important for selecting the venue and refreshments.
What should the location and date be?
When planning a celebration of life, you are not limited in your choice of venue. As long as there is enough space to host the people you've invited, a celebration of life can be held almost anywhere. You can take advantage of the space available at a funeral home but you can also choose to have your event at your home, outdoors, or at some location that held meaning for your loved one.
A celebration of life is held after the burial or cremation of the deceased. It normally occurs from a few days to a few weeks after the person has passed. Some people choose to have a celebration of life on the anniversary of birth or death.
How will you inform people?
If your celebration of life is being held alongside a traditional funeral include the details in the obituary. Invitations are not normally sent for funerals, but it is perfectly acceptable to personally invite people to a celebration of life. Keep in mind that people who do not receive a formal invitation may still want to attend. So, get other people to spread the word on social media.
Include details about any dress code or particular colour you'd like for people to wear, any special requests and the kind of atmosphere you are hoping to create. A celebration of life is usually a more informal event so unorthodox means of invitation and unusual dress codes are perfectly acceptable.
Who will officiate?
A celebration of life may be more informal, but you'll need someone officiating at the service. If you have already enlisted a celebrant to help you plan the celebration, many are also qualified to take on the role of officiant. They can lead the proceedings and introduce the other people taking part in the ceremony. Or, you could ask a family member or close friend to officiate if that would feel more comfortable than a stranger.
Who would you like to speak?
Just like any funeral, it's a good idea to include several speakers at the celebration of life. A more informal atmosphere could mean there are fewer time limits, giving more people the opportunity to share things they'd like to say. You can ask specific people to share their thoughts or invite anyone who would like to offer an anecdote to speak. It's good to include a eulogy that expresses their best qualities, highlights of their life story and how much they will be missed. You can also include readings or poems that were personal favourites of the deceased, or reflect them well.
What type of refreshments will you have?
Your venue, budget, and other constraints can help you decide on the type of refreshments you serve. You are not expected to provide a full meal unless that is something you would really like to do. Refreshments after the service offer a relaxed way for people to share in a casual atmosphere. You could have catering or prepare the food yourself, perhaps including some favourites of your loved one as an extra personal touch.
How do you personalise the event?
There are an unlimited number of choices when it comes to personalising a celebration of life. Many people create a tribute movie or slideshow and display photos around the venue. Your choice of music and readings can also be highly personal. Live or recorded songs is appropriate and is usually a genre that the deceased person enjoyed.
Consider creating a memory table or a memory board to display prized possessions, proudest moments, or a synopsis of a lifetime through photographs. This helps guests to connect with the person they came to say goodbye to. Also, as with typical funerals or memorial services, a guestbook is available for callers to sign. You could later create a memorial page as a lasting tribute to your loved one.
Many people choose to include structured elements such as readings and music followed by some type of group activity and then a reception. The beauty of a celebration of life is that you can customize your ceremony however you'd like. Think about the way your loved one preferred to spend his or her time. The important thing is that the activity is an appropriate tribute to your loved one. For example, you could have a candle-lighting service, flower planting, balloon or lantern release, just to name a few.
Take a look at our poetry or literature readings or music suggestions for more ideas on how to personalise your celebration of life.
The possibilities are endless when it comes to planning a celebration of life service. Be sure to keep the event in check with what your loved one would have wanted. Below we have set out a quick checklist to assist you in your planning.
Checklist
Determine the type of service or celebration.

Decide on the location, date and time, and who will attend.

Outline a budget.

If desired, publish details about the service or event with the obituary in local papers.

Compile a guest list and send invitations; include RSVP.

Decide who will officiate or host the event. Consider hiring a planner.

Select readings according to the desired tone.

Write a eulogy; consider family or close friends to read, as well.

Choose music. Consider a friend to play, or hire a musician.

Decide the sequence of readings, speeches, and music.

Create a program.

Consider important final touches: flowers, food and drink, a memory table or board, and a memory chest for written notes and/or photos.

Write thank-you notes or prepare a small thank-you gift for the help received.