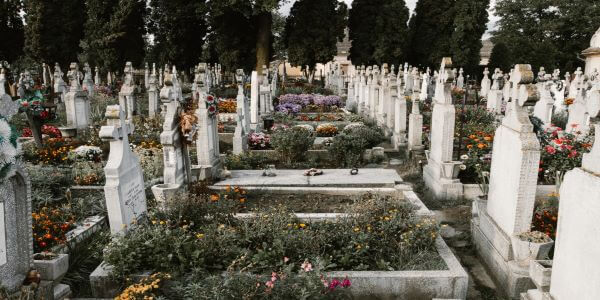 A Guide to Burial Services
The type of funeral you choose for your loved one is an important, personal decision which involves a lot of consideration, even once you have settled on a type. Burial is the oldest funeral option, dating back as far as 130,000 years, yet it remains a popular choice today.
A burial service usually consists of a main funeral service followed by a short ceremony as the coffin is lowered into the ground. Planning a burial can be an exhausting experience during a time of grief so here we have outlined the process of organising a burial, from place and grave type to legal requirements and costs.
What are the Different Places of Burial?
There are three main places where a burial can take place, outline below.
Graveyard or Churchyard
A burial can occur in a graveyard, also referred to as a churchyard, if the person who has died is a local parishioner. In some areas, graveyard burial space may be limited or even full. If a graveyard is full and the person who is going to be buried hasn't reserved a space, another burial site will have to be chosen.
Cemetery
A cemetery differs from a graveyard as a cemetery is simply a place where people are buried, while a graveyard is an area linked to a church. While some non-church adjacent cemeteries might be referred to as graveyards, they are in fact cemeteries. Most cemeteries are non-denominational so you can have most types of service or ceremony. Some cemeteries will allow graves to be purchased in advance.
Natural burial site
Natural burial sites are an increasingly popular alternative to cemeteries or graveyards. They are often set in meadows or woodland areas with a focus on preserving the natural beauty. They require all coffin contents to be natural and biodegradable and do not usually permit traditional headstone markers, with the aim that eventually the grave is reclaimed by nature.
Find out more about natural funerals.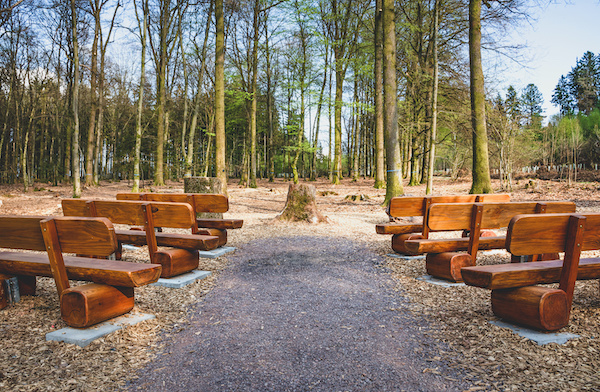 What are the Different Types of Graves?
Graves fall broadly into two categories:
New graves: A single, double or triple depth grave may be available, dependent on the burial ground conditions and local regulations. A double or triple depth grave may be required if more than one member of the family is to be buried in the same plot.

Existing graves: If a grave is already in existence or is perhaps part of a family plot, you will need to provide the deeds of the grave.
How Much Does a Burial Cost?
When planning a burial service for your loved one, it's important to keep costs in mind. The actual cost of a funeral can vary greatly depending on where in the UK you are, what type of funeral you are organising, and whether or not your loved one has chosen to use a funeral plan. The cost of a grave is generally expensive, making burial arrangements slightly more expensive than cremation overall.
The overall cost of a burial can include the following fees:
The exclusive right of burial – this is the physical space itself, often known as the burial plot.

The interment – this fee is for the preparation of the burial plot.

Reopening an existing burial plot.

Removal and replacement of existing memorials.

Purchasing a new memorial or headstone.

The coffin for your loved one.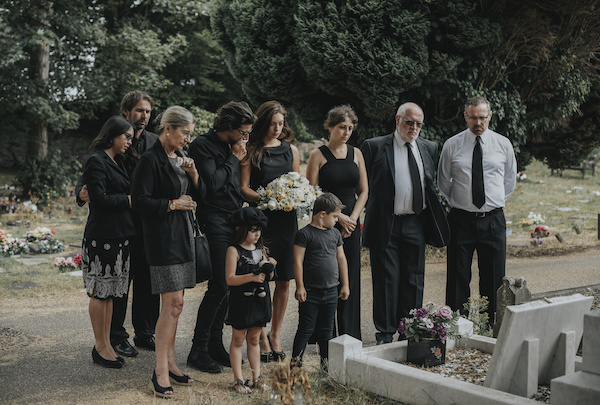 What are the Legal Requirements for a Burial?
You need to be issued with a Certificate for Burial for a burial to take place. In order to do this, follow these steps:
Register the death by contacting the GP of the person who has died or the doctor who was looking after them. They will be able to arrange a Certificate of Cause of Death.

Once you have a Certificate of Cause of Death, you need to contact a registrar and register the death officially. This needs to occur within 5 days in England, Wales and Northern Ireland, and within 8 days in Scotland.

Once you have registered the death, you will be given a Certificate for Burial or Cremation. You can give this to your funeral director and from there they can organise your burial.

A Burial plot application form will need to be filled out and submitted whether you are requesting a completely new burial plot, or looking to reopen an existing burial plot.
What Happens at a Burial Service?
A burial service usually takes place after a main funeral service. It may include a short prayer or reading, depending on preference and religious beliefs. Traditionally, mourners scatter soil onto the coffin after it has been lowered or throw flowers into the grave. You may choose to hold a graveside service as the main ceremony. In this case, chairs can be set up beside the grave for the closest friends and family members. However, bear in mind that graveside services are outdoors and will be subject to weather conditions. After a burial service, you may want to set up a memorial page for mourners to pay tribute to.
How is the Grave Marked?
You are not legally required to provide a headstone or a memorial for a grave. However, most people choose to have one, whether it is weeks, months or even years after the burial. Headstones remain the most popular types of grave markers when it comes to traditional burials. Once a headstone or memorial has been ordered, it takes an average 8-12 weeks to be completed. The headstone cannot be placed until the ground settles; this can take around six months.
Find out more about choosing a headstone here.